ABOUT US
Our
family roots

run deep.
Advocating for our clients is a foundational value established way back in 1975 by original owner, Ronald Cooper. Ron believed in the true meaning of integrity and Power-West's reputation was built on Ron and his employees doing exactly what they said they would do for customers.
---
Ron's word was his bond. It's the same for his son, Ryan, who took over the business in 2011 as President and CEO. Ryan was raised on the foundation of Power-West's reputation for providing hard work, excellent customer service and quality products.
Ryan has taken those foundational values and augmented them with state-of-the-art technology in both power generation and real-time data collection to provide technicians with every tool possible to enhance the customer experience.
Ryan began his career at Cummins Western Canada in 1996 as a Generator Service Technician. During his tenure at Cummins, Ryan obtained his Heavy-Duty Equipment Mechanics (Red Seal) license through BCIT before rejoining his father in 2007.
Once back at Power-West, Ryan made the transition from technician to businessman, learning about customers and working with them to develop workable solutions to challenging situations.
Having worked directly with end-users in many different industrial and institutional settings, Ryan understands that many of Power-West's customers have unique emergency/stand-by power requirements in terms of equipment and processes and can provide a range of viable options to meet these needs.
With Ryan's guidance, Power-West has grown significantly in both size and scope, servicing primarily commercial/industrial applications. With a focus on family values and customer service, Power-West has developed a solid and dedicated team of certified technicians and support staff who are invested in the long-term success of the company.
OUR STORY
Our environmental commitment.
---
As service providers who work with oil, coolant, fuel, batteries and other such materials, we are particularly aware of our responsibilities when it comes to their proper handling, storage, disposal and recycling. Although we cannot eliminate their use, we do everything we can to ensure they are dealt with properly and with as little environmental impact as possible.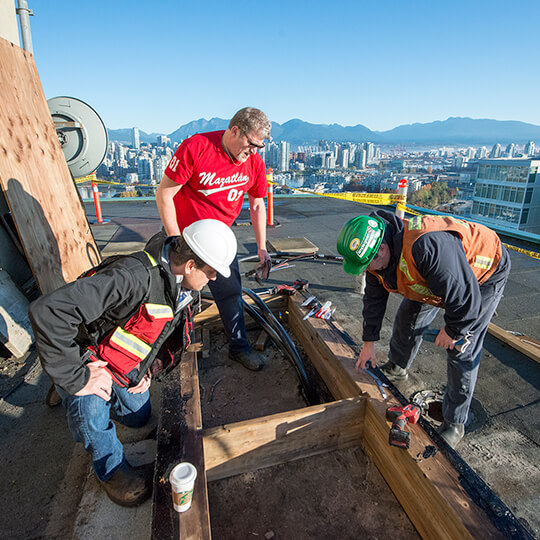 Our field service software helps us reduce our environmental impact in several ways. We use:
digitalized forms
on-line after-service reporting
customer online portals
emailed invoices to reduce our reliance on paper
Efficient scheduling and dispatch means fewer service calls, less trips to the office for parts and materials and reduced drive time and fuel consumption.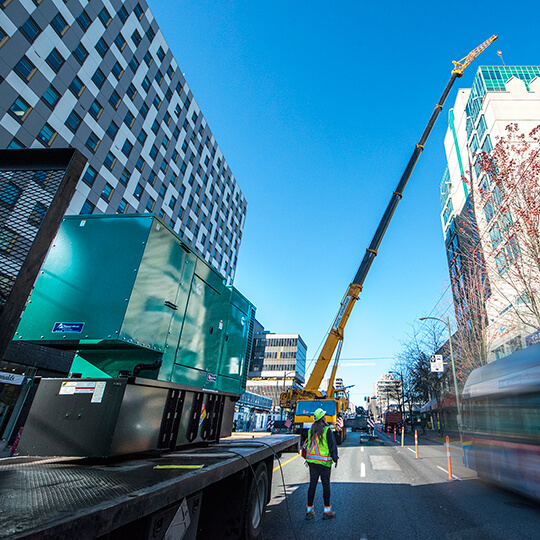 Our service team is committed to recycling. We recycle all oils, coolant, filters, metals and batteries generated as part of our maintenance and repair services. All service vehicles are equipped with rags, storage containers and spill kits to deal with potential emergencies.
Our new building in South Surrey will have a water recycling system (for collecting and reusing rainwater), rooftop solar panels and energy efficient windows, heating and lighting.