Solve Little Problems
Before

They Become Big Problems
---
At Power-West Industries, we believe in the power of prevention.
Power generation is a large capital cost for any business or organization. Taking care of a generator means regular preventative maintenance to keep it operating at peak efficiency and prevent costly repairs.
Or worse: a complete shutdown.
Power-West Industries currently provides annual, semi-annual and five-year Preventative Maintenance services to over 700 customers. Our range of services are designed to anticipate typical machine failures. Developing a customized predictive maintenance strategy to complement our preventative maintenance programs is a cost-effective way to avoid machine failure and address issues before they become problems.
Regular Maintenance
---
When we talk about maintenance, that also includes ensuring your generator is run on a regular basis. Why do we advocate for this? Think about it this way. If you left your car in your driveway for a year and didn't start the engine up at all during that time, how dependable do you think it would be? Would you feel confident using it? Same goes for your generator. It can't just sit there for a year unused. At Power-West, we believe regular maintenance is one of the best ways to avoid problems down the road.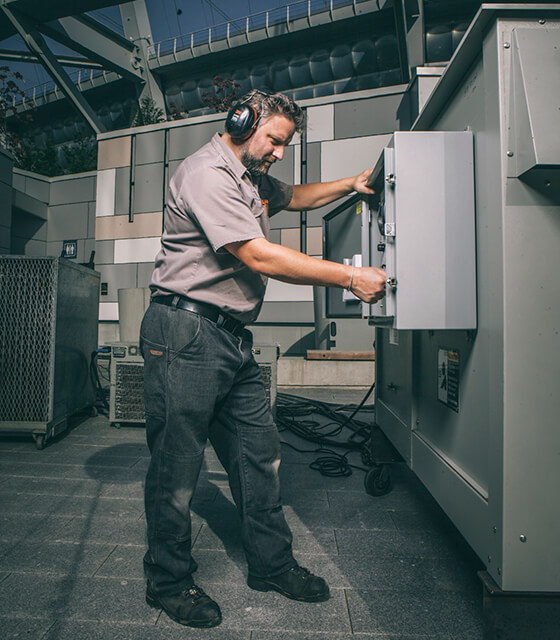 Other reasons to consider regular preventative maintenance services:
Federal safety standards require that equipment be maintained at least on a semi-annual basis.
If your equipment is for back-up generating purposes, we will train your staff to operate it so you can run it on a regular basis.
We can custom-design a maintenance schedule that fits your requirements.
We use the latest software that tracks when your equipment needs preventative maintenance while also integrating your scheduling preferences.
If regular maintenance means taking your power generator off-line, we will bring up a back-up generator to there will be no disruption.
We make it easy. We keep it simple.
What Preventative Maintenance Includes
Programs can be tailored to suit each system's operational requirements and power-grid stability profile. Items that can be part of individual service agreements include:
Preferred service response time
Long-term maintenance planning and performance evaluation for genset & ATS
Fluid top-ups (coolant, oil)
Belt replacement
Annual fluid sample analysis (oil, diesel fuel, coolant)
Block heater repairs
Air filter element replacement (as required)
Annual engine major tune-up (spark plugs, ignition system, etc.)
Engine starting battery testing and cleaning
Engine starting battery replacement (every 3 years)
Annual resistive load bank testing
Cooling system service (fluids, hoses, etc.)
Regular rodent-proofing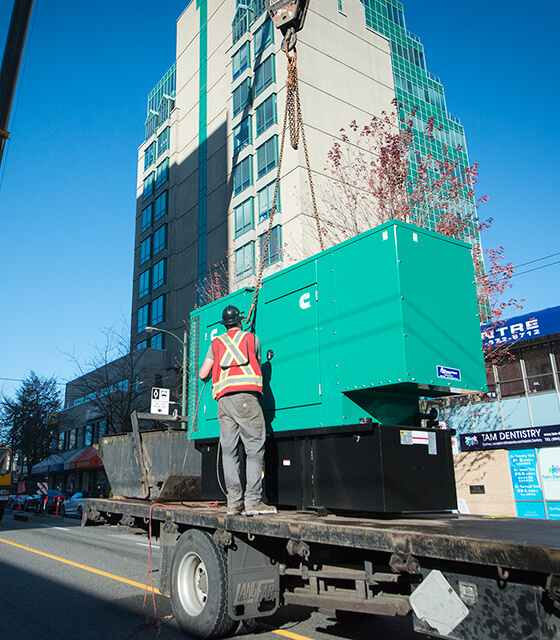 Service On Your Schedule – Not Ours
---
When Power-West technicians arrive at your site for regularly scheduled maintenance, they abide by a strict code of principles to ensure you receive the best customer experience possible. That also means leaving your business in better condition than we found it.
Our mobile fleet service software provides our knowledgeable technicians with 365/24/7 access to customer site, location, asset, service history and equipment information ensuring they have what they need to rectify most issues in a timely and cost-effective manner, thereby minimizing downtime.
And our service packages don't stop there.
We respect your time and are committed to keeping scheduled appointments.
We have real-time data collection and retention of complete service histories that are easily accessible online and always available.
We stay ahead of problems with immediate reporting and tracking of deficiencies while providing online e-quotes for required repairs that can be reviewed and approved with a click of a button.
We provide real-time work acknowledgments.
We offer verification in the field through digital signature capture as required.
We provide GPS tracking.
We also offer customer satisfaction surveys, scheduled 'check-in' calls to our customers, and transparent communication policies that let us know we are on track and help us identify areas for improvement.
We provide online after-service reporting which includes photos, videos, audio notes, digital paperwork and inspection forms.
We offer customers online access to job documentation, service reports and inspection forms.